Harris Technologies' approach for delivering managed print services to enterprise and public sector organizations around the world.
In an ever-changing economy, organizations are challenged to develop and maintain technology investment strategies that maximize process improvements and cost savings without compromising future growth. Leaders who invest wisely can change the economics of technology—lowering costs today in a way that allows them to invest in the future and exponentially increase productivity and profitability over time.
Managing the flow of information and documents in your organization is a smart place to begin investing. Regardless of your industry—manufacturing, technology, financial services, retail, insurance, government, education, healthcare—gaining control of your imaging and printing environment and capitalizing on improved document-intensive processes allow you to address key business or organizational priorities.
As you consider investing in IT and business process improvements, remember that today's intelligent imaging and printing devices are full clients on the network. Ask yourself how vendors like Harris Technologies can help you define a multi-year strategy and approach to get the best return on your investments.
How we do it: the Harris Technologies Managed Print Services approach to maximum value from your investments.
To be successful, your improvement journey benefits from a consultative partnership with a provider that can see and deliver on the big picture. Harris Technologies Managed Print Services offers a technology-based, results-oriented consultative approach built on the premise that imaging and printing is an integral part of your IT strategy and architecture. We recognize the importance of incremental and continuous improvements that allow you to respond to change. And we can help support your requirements, wherever you or your employees do business corporate headquarters, branch offices, on the road or at home.
Leverage our experience and expertise to evaluate your organization's needs and identify its goals.
Gaining an accurate, fact-based understanding of your organization's current state and future goals is a critical first step. Harris Technologies helps you gain this understanding in a number of ways. Collaborative workshops help you reach consensus on the critical issues and business priorities that inform your future-state plan and roadmap. Remote discovery, assessments and due diligence provide audits of your current environment to better understand its cost structure, usage patterns, technology requirements and management practices—and build the business case for change.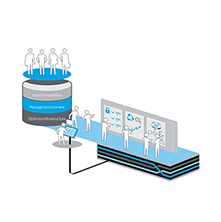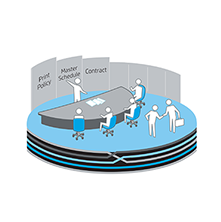 Craft a viable long-term plan, secure sponsorship, set expectations and then lead the way.
The plan and propose phase builds on the results from Phase 1, observe and analyze. This is the point where, together, Harris Technologies and your organization finalize plans for your imaging and printing transformation. Phase 2 concludes with the mutual approval of three inter-related documents: the print policy, the master schedule and the contract. A management of change kit combined with Harris Technologies's expertise provides tools and best practices for helping your organization's stakeholders and employees embrace the change.
Implement solutions seamlessly with minimal business disruption and maximum organizational benefit.
At this stage, your plans are put into action. Your Harris Technologies transition manager leads the effort, focusing on all areas critical to a successful deployment. If your plans include work flow solutions, once again, Harris Technologies becomes your point of accountability for successful implementation and execution.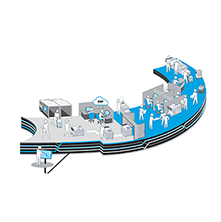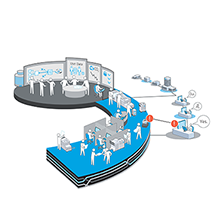 Improve efficiency and enhance work flows to keep your business moving—now and in the future.
As the improvement project transitions from deployment tasks to day-to-day management of your imaging and printing environment, a Harris Technologies account delivery manager (ADM) provides a single point of accountability for ongoing improvements. Your ADM also works closely with remote management centers to proactively identify and resolve issues—before you even know they might exist.
Account delivery manager and business reviews
Your ADM oversees ongoing operations, monitors your environment's performance, analyzes data for trends or issues, and serves as an intermediary for all your concerns. But governance responsibilities are only the beginning. Your ADM also operates as a critical addition to your own staff, one that's accountable for understanding your business priorities and continually delivering results.
Periodic business reviews keep your organization up to date on all progress and issues and provide recommendations for increasing the business value of your imaging and printing investments. Levels of coverage allow you to choose whether your ADM works onsite or remotely and determine your number of scheduled business reviews.